Welcome To My Bamboo Rod Building Site.
By trade, I would call myself an artist. By profession, I would call myself a luthier. By passion, I would call myself a bamboo rod builder. I love the idea of being able to make everything you use. It's like the idea of learning how to multiply before you're allowed to use a calculator. I think it's important to know exactly what the tool you're using is doing and why, instead of taking what it does for granted. I love film photography because you can manually control exactly what the camera is doing in order to take the desired image. I love building instruments because I can manipulate every little detail and type of wood that goes into the instrument to make the desired sound I'd like.
...and now, I am learning to craft bamboo fly rods on an equally deep level.
I have been working towards becoming a master bamboo fly rod builder for 4 years now. I've completed two apprenticeships so far, where I've learned the fine art of bamboo fly rod building. First in 2018, from the hidden gem, Master Russell Beck. Second, in 2020, from noted Northwest Master Bamboo Rod Builder, Dave Dozer.
After all of this hard work, I've determined it's time to start selling my rods.
Finely crafted bamboo fly rods evoke a feeling of artistry, quality craftsmanship, and tradition. My goal in building bamboo rods is to create a rod that will move exactly as the caster desires. A rod that dances to it's maximum ability. I hand build all my bamboo fly rods one-at-a-time. I invest upwards of 100 hours building each rod, and I am intent on superior quality and precision in my building process. My tapers are inspired and adopted from those of historic bamboo rod builder, Jim Payne, who was considered to be one of the finest rod designers in modern time. My rods all have a crisp medium-fast action, perfect for delicate dry fly presentations to the most selective trout. I use the finest quality components on all my rods, and I turn all wood reel seats on my rods from hand selected figured hardwoods. I offer a number of different rod sizes/weights that I'm sure will meet your demanding needs of a quality bamboo fly rod. I am currently building the following bamboo fly rods:
All my rods are 2 piece designs (with an extra tip section) and include a custom rod sock and aluminum/brass rod tube.
Before there were graphite and fiberglass rods, all fly rods were made from bamboo. Bamboo fly rods were hand built by highly skilled craftsmen in local workshops. Today, owning, casting, and fishing a bamboo fly rod takes an angler back to an era where rods were built by talented rod makers. That personal craftsmanship and old-time tradition appeals to many anglers.
Graphite rods are built with fast actions to make casting easier, especially at long distances. However, there is a sacrifice with these faster action rods. There is a lack of connectivity between the caster and the fly rod and the fish. In contrast, bamboo transmits energy through the fibers all the way down to the grip section of the rod. That shows up as a heightened sense of feel in the rod. When casting, you feel the rod loading, flexing, and unloading so much more.
When you hook a fish you feel every twist and turn of the fish. That feel is inherent in all bamboo fly rods, and once experienced, it's hard for many people to go back to graphite. Finally, today's bamboo fly rods can be customized to any length, weight, and rod action that the angler wishes. If you're looking to fish small mountain streams, you may want a shorter, faster action rod. But, you may want a longer, slower action rod if you fish slow-moving spring creeks where delicate fly presentations are needed. Customized reel seats, colors on guide wraps, and rod hardware are all possible as many bamboo fly rods these days are made-to-order per the customer's desires.
Let's talk
I am currently accepting orders for custom rod builds. It would be an honor to put one of my custom built rods into your hands. Send me a short message about your dream bamboo fly rod and we can start working together!
*Page 50*
An article in the Italian Bamboo Rodmakers Association online newsletter about my journey into the bamboo world.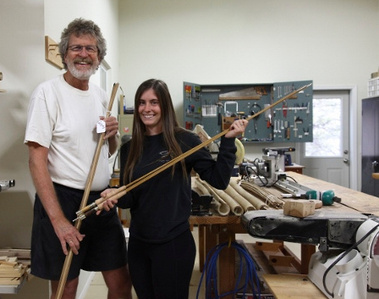 Blog post by master Dave Dozer on Apprenticeship with Olivia Elia.