Aspiring Bamboo Rod Builder...
Since my last apprenticeship (over a year ago), I hadn't built any fly rods but had been spending my time enhancing my wood working skills in other forms. I had been eager to start building rods again, but didn't have the equipment or skills to begin my next rod on my own. On September 30th, 2019, I sent out an email to several well noted Master builders to see if any of them had advice for a new builder wanting to move forward.
After receiving multiple "turn-off-ish" emails telling me that this was something that was pretty impossible for me to achieve, I received an e-mail from Dave Dozer.
His response consisted of 800+ thoughtful words giving me advice on what my next steps could be. He made me believe that if I set my heart to building rods, then it could be done. Dave closed the e-mail by saying he and his wife (Mary Ann) were going to be in my neck of the woods soon and he'd like to meet me.
And so, on February 21st, I met Dave in his BambooPursuits booth at the Pleasanton Fly Fishing Show. After chatting for a while, I could tell that Dave would be an amazing Master and I could learn so much from him. By the end of our conversation, he offered to do an apprenticeship.
Life Changing Two Weeks...
From September 5th to September 16th, the Dozers graciously welcomed me into their home for a 10 day apprenticeship building Bamboo Fly Rods. Each of those 10 days consisted of about eight hours of working.
Having the privilege to learn from Dave Dozer was probably one of the most life changing experiences of my life. As a teacher, Dave is very attentive and caring. Because of his intensive knowledge of building, he is able to describe and demonstrate each step to a very precise level. He knows exactly what he is doing, and why he is doing it. This is exactly what I hoped for in a teacher. I was able to ask any question that came to my mind and know that a) I wouldn't be judged if it was a dumb question, and b) Dave would have the answer and immense background knowledge to explain the answer. Dave has not only been building rods for 15 years, but also has been studying everything that could possibly be associated with building rods. He knows everything that there is to know about the history of rod building. He and his wife also have studied the physics and components behind how a rod bends based on its taper and exactly how the rod is being cast. All of this knowledge came together during our apprenticeship.
By the end of the apprenticeship, I had two and a half rods built, and a mind that was full of inspiration and eager to continue building. Dave is still my Master to this day, as our apprenticeship continues virtually. Soon, I will be moving up to Central Oregon where we can continue to work and share our passion together in person.
Day 1 - 2
We started out by analyzing my cast. The way you cast your rods has a direct correlation to the way you taper your rods. Dave's wife, Mary Ann Dozer, is a Fly Fishers International (FFI) Master Casting Instructor. She and Dave taught me how to analyze casts and determine the best taper based on the cast.
Next we got to work preparing the strips of the bamboo culm. This included hand splitting the culm, sanding the strips, removing the nodes, and then straightening the strips.
Day 3 - 6
Now it was time to plane the strips. Dave taught me how to tune up my block plane and how to sharpen my plane. This was probably the longest part of the process.
Once all the strips were planed, we glued the strips together.
After letting them dry overnight, I removed all the dried glue, sanded the blank rod, and straightened the sections.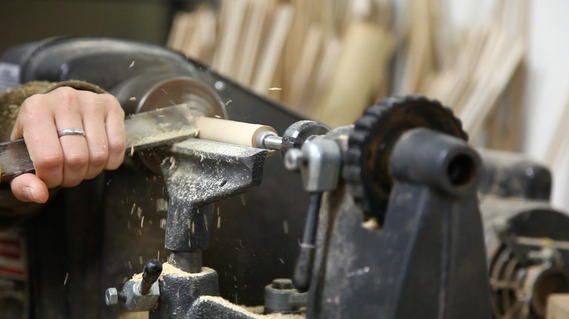 Day 7 - 10
The next couple days consisted of a lot of work on the lathe (one of my favorite things). I turned the reel seat and the cork handle.
Once the rod was prepared for the reel seat and handle, I prepped and glued the ferrules.
Lastly, I signed the rods (took multiple tries) and made the rod tubes.
Homework
Once I was home from my apprenticeship, I finished varnishing the rod, wrapping on the guides, and varnishing the wraps.
FINAL PRODUCT
4 wt. 7'9" and 7 wt. 8'0"