My First Guitar
Originating from the Carpathian Mountains of Eastern Europe and the forests of Central America, the tone-woods of my first ever guitar were selected to speak for themselves. This build was a five month process that introduced me to the whole new world of guitar making.
*If you scroll past the pretty pictures, I wrote about the process of the build*
Top
Wood: Carpathian Red Spruce
Rosette: Maple, Walnut, Ziricote
Bracing/Voicing: Scalloped/Tapered Sitka Spruce
Bridge: Portland Guitar Co. Ebony Bridge Blank
Finish: Gloss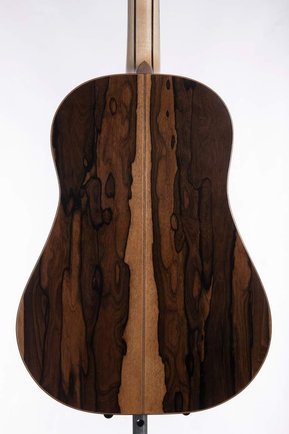 Body
Wood: Ziricote
Back Stripe: Maple & Walnut
Binding: Maple & Walnut
Radius: 14'
Finish: Gloss


Neck
Wood: Maple & Ziricote
Heal Cap: Walnut
Width at Nut: 7/8"
Fretboard: West African Ebony
Side Dots: Birch
Neck Shape: Round
Finish: Satin






Headstock
Wood: Maple w/ Ziricote & Walnut Laminate
Inlay: Obsidian
Peghead: Slotted Square
Tuners: Schaller GrandTune
Finish: Gloss
November 8th, 2019 8:27 p.m. I get a wild idea; I am going to build an acoustic guitar.
April 15th, 2020 3:07 p.m. I realize wild ideas take forever.
This was a very impulsive idea, but once it was stuck in my head, I couldn't get it out. It was pretty far-fetched. I had never built a guitar before. My bible for the next couple months was Guitar Making - Tradition and Technology by William R. Cumpiano. Looking back, I can't really believe I did it. I only had a few hours a week to actually work on it. I think I was able to because I just took it step by step, had some great help from friends, and was lucky enough to have workshop access. Thank you
Determine and Source Wood
I first created a document of everything I needed to buy and all the specs of the guitar I wanted to build. I decided on an Acoustic Baritone Guitar. This type of guitar has a very long (27 inch) scale, and 12-fret neck that allows the guitar to accommodate heavier strings at the lower tensions of open tunings. Being a Bass player makes me favor the tonal qualities of Baritone Guitars.

Deciding which wood to use was pretty easy for me because I have been obsessed with Ziricote for a while. Ziricote is beautiful. It is often compared visually to Brazilian rosewood, but has inky black lines and darker, ghostlike grey tones. Ziricote's allure comes from its rich, booming bass response, matched only by its luminous treble. It also boasts a natural reverb that surrounds both player and audience.
For the top, I went with a classic wood for bluegrass players, Carpathian Red Spruce (also known as Adirondack). Coming from the Carpathian Mountains, this tone-wood has excellent stiffness while maintaining a lower density and lightness. This gives it an excellent stiffness to weight ratio. This is an excellent tone-wood for any flat-picked or fingerstyle steel string acoustic guitar.
The rest of my choices were based purely on aesthetics. Which now, I realize wasn't very smart. I decided to do a Maple neck. Maple is one of the hardest woods to work with because it's so dense. This probably added an extra 2-3 hours of work when I was carving the neck.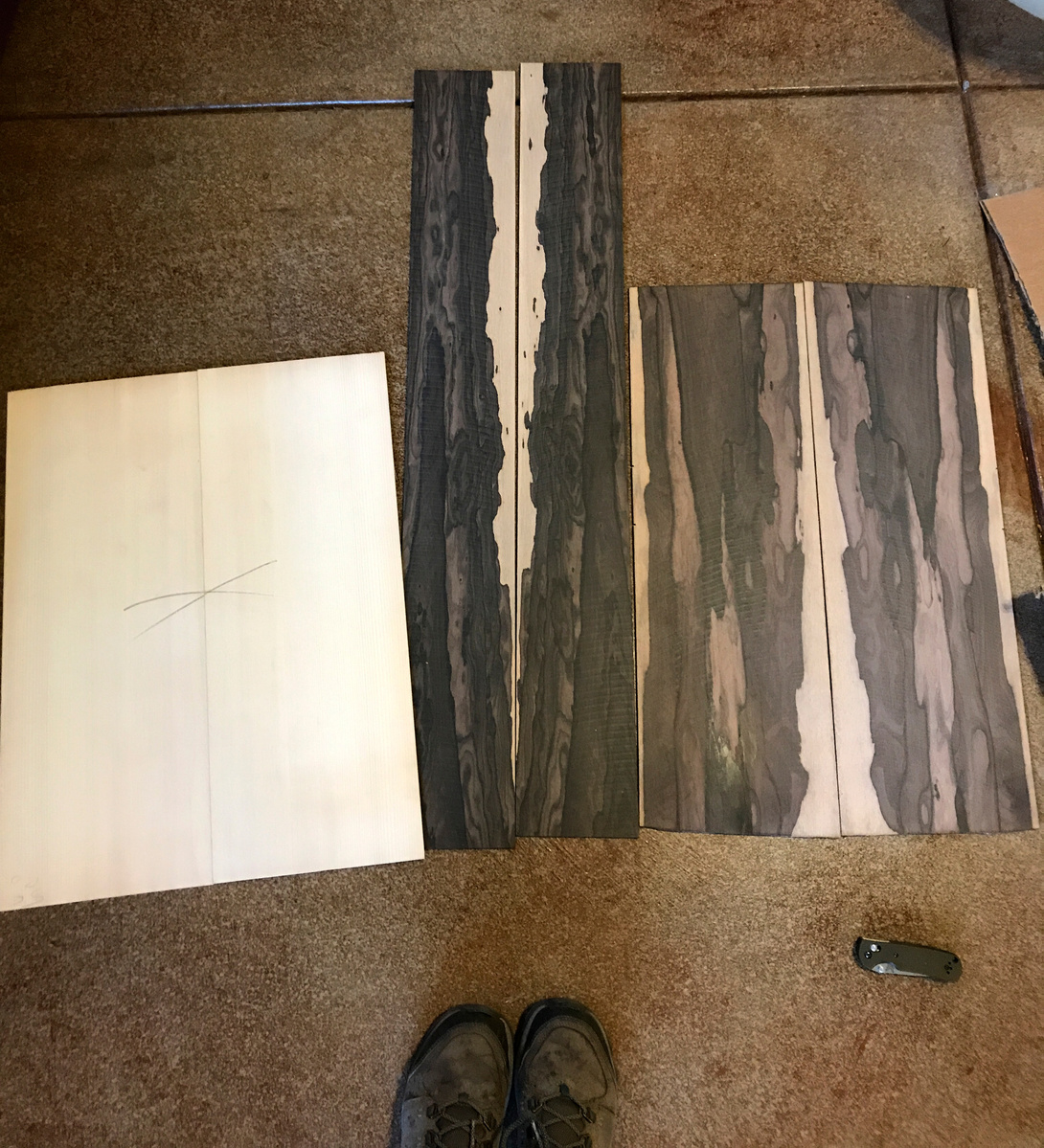 Mold Making
I needed to create two molds for this guitar: one for bending the sides, and one for holding the sides in place once they're bent. This involved a lot of CNC work which was quite fun and I learned a lot. I was very lucky to have friends who could hold my hand through this part of the process since I have never done CNC work before. *Thank you Ron and Jordan*
Body Building
This is probably the most involved part of the process. Luckily, body building is my specialty. (hehe)
This step includes:
Bending Sides
Adding Kerfing
Installing Side Bracing
Gluing and Shaping the Top/Back Bracing
Radiusing the Sides
Mating the Top, Back, and Sides
Installing the Binding
There are lots of techniques I used for voicing the Top while shaping the bracing. Voicing the tone-wood for instruments is a very controversial topic that seems to be the main component to making each guitar builder unique.
For the binding, I attempted a complex process. It involved installing maple binding, then routing the majority of it off, so there's just a small outline of maple, and then installing a thicker walnut binding.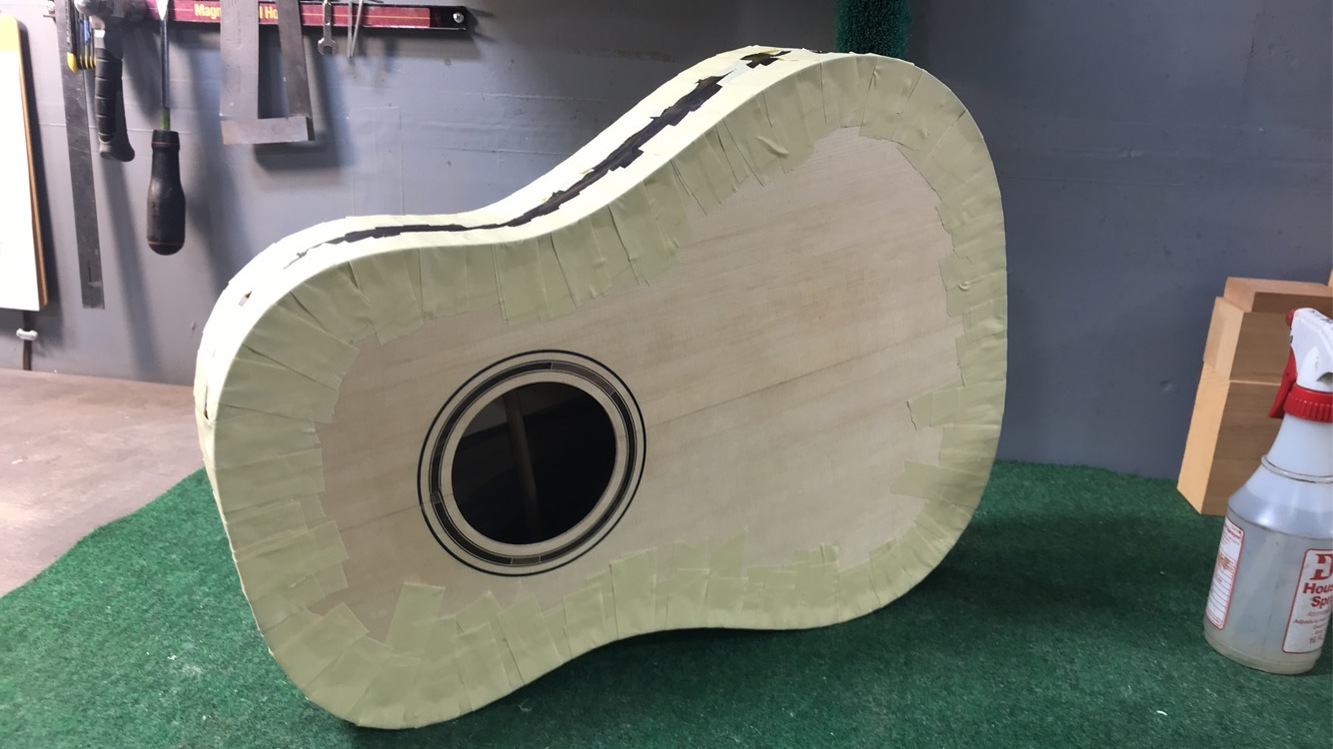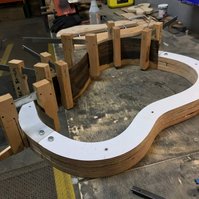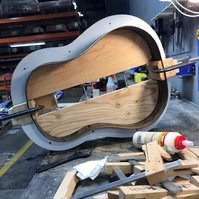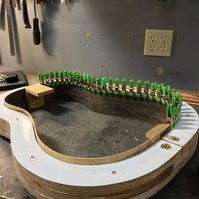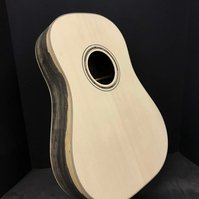 The Neck and Fretboard
This was the most foreign part of the the guitar building process for me. I had never before carved a neck. This part of the build is very important because the player touches the neck the most. Any minor defect will be magnified. This is something that takes years of experience to perfect because every mistake has a domino effect.
After hours of chiseling and rasping, there was another couple hours of sanding via the shoe shining method.
I had also never made a slotted headstock before, but it was a challenge that I wanted to conquer.